DROPSHIPPING BRANDED KIDS WEAR
B2B Kids Fashion is the B2B e-commerce that allows you to purchase kids branded wear for your store online. But B2B Kids Fashion's offer doesn't stop there. The Dropshipping service we offer will give the possibility to online stores to sell the best and most fashionable collections without a storage unit. This way your e-commerce kids clothing store won't have to face logistic or storage costs, which can weigh much on the first investments in opening an online store.
B2B Kids Fashion offers its professionality and high-quality service to allow you to earn online with a branded kids clothing catalog in which you can find the mest brands of international fashion. With Dropshipping for kids wear online stores you can start to sell immediately just by purchasing one pluglin.
Discover how does B2B kids Fashion Dropshipping service work!
What is Dropshipping
With B2B Kids Fashion dropshipping supplier you can own our e-commerce catalog without storage costs.
How does dropshipping work? Simple
It is possible to download B2B Kids Fashion's catalog through a plugin, suited for Magento, Prestashop,Shopifyand Wordpress. This way you'll be able to bring all of B2B Kids Fashion's merchandise on your e-commerce and you'll be ready to sell the best brands in kids wear. Not only you won't have to worry about storage and logistic costs, but you will also be able to import pictures and descriptions of all our catalog!
Your clients will buy from your website: you'll recive the payments and B2B Kids Fashion will handle the shipping. Great savings in both time and money!
Become a dropshipper with B2B Kids Fashion now!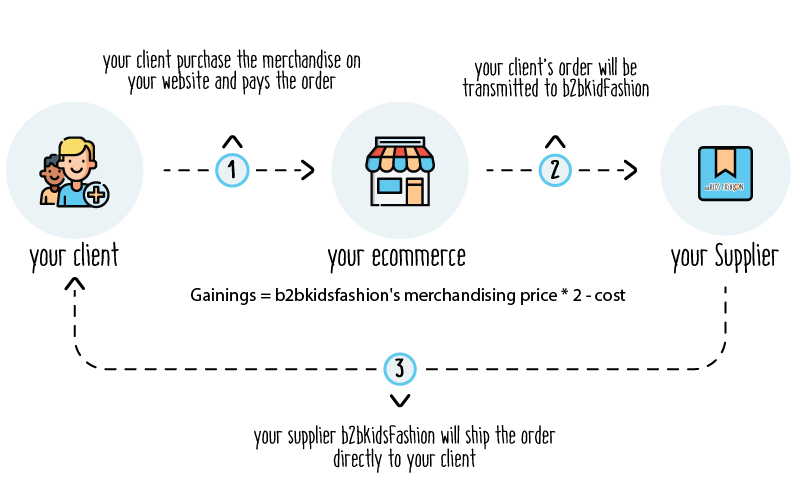 DROPSHIPPING ADVANTAGES WITH B2B KIDSFASHION
You can start to sell immediately with no worries
No storage investments
You don't have to worry about the shipping
No unsold risks
The best brands available on your website with one click
Obtain immediately pictures and descriptions from the catalog
COSTS
Subscriptions fee for dropshipping service
With B2bkidsfashion's dropshipping service you can download the complete catalog together with hd pictures, product descriptions and live availability in storage. Selling without a storage will be very easy and the gainings are granted!
the first month is free for EVERYONE!!
MONTHLY
99€ / per month + VAT
first month free
No minimum caps on your orders
Sell with no storage
Original labeled brands
Exclusive brands
Extremely competitive commodity prices
YEARLY
49€ / per month + VAT
1 month free + 12 months
No minimum caps on your orders
Sell with no storage
Original labeled brands
Exclusive brands
Extremely competitive commodity prices
600€ savings in subscription fees
(compared to the montly sub)
CONNECT YOUR STORE WITH B2BKIDSFASHION
Do you have an e-commerce with Magento, Prestashop,Shopify and Wordpress.
Connect your e-store with our storage automatically!
How does it work? 
By purchasing one plugin, developed by our tecnological partner, you will be able to upload products from our catalog to your website with just one click!
You'll be able to import the catalog on your store, decide your selling prices and your own margin, decide the language of the descriptions, use our pictures for each product and have live view of the quantities available in storage.
With our dropshipping service, selling will be so easy!
Your clients orders will be automatically sent to our platform together with the shipping data. You won't have to worry about anything: after the payment for your clients orders, we will handle the shipping. Easy?
Buy the right plugin for your e-commerce and start now!